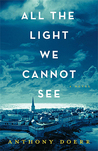 All the Light We Cannot See by Anthony Doerr
My rating: 3 of 5 stars
I know I should love this book; its a Pulitzer Prize Winner for goodness sakes, but I just found the book rather mundane. Pedestrian. It didn't grab my heart and make me hope that the book would never end. I enjoyed it, but…..
Marie-Laure is French, 12 and blind. But I found the depiction of blindness better in "Star Gazing" by Linda Gillard. The terror of being blind and in a new city during a hostile invasion was never really portrayed in this story. I never really thought of Marie-Laure as a child, it felt like she was 15 or 16 the whole way through the story.
The constant jumping around of time periods wasn't poetic, it was annoying. We would jump from the start to the end and then the middle of the story with no rhyme or reason.
Werner is an orphan living with a French nun in Germany. A natural talent with radios and mathematics, Werner is destined to be a miner in his home town until he is chosen to enter an elite school run by the Nazi's. Far from being his saving grace, it is a lesson in brutality, but this doesn't result on Werner either embracing then Nazi Party or pulling away from it in disgust. These two characters are also joined by an older figure who is looking for a jewel beyond compare. He is unlikeable despite being afflicted with cancer, used by the author to make this character more sympathetic. Marie-Laure and Werner are destined to meet and its through the miracle of the radio that it happens. It just felt too obvious.
This isn't a book that deals with the cruelty of war. Life doesn't seem particularly hard for the residents of Saint-Malo who are invaded by the German war machine. The terrible risks in being part of the Resistance was never explored even in a fleeting manner. After 20 years of being a recluse (from World War One) Uncle Etienne is miraculously able to leave his house when the situation demanded it. It just felt incredibly fake.
I can understand why so many people fall in love with this book, but it felt too plodding, the cruelty of war was glossed over and make it in the end, an unsatisfying read.