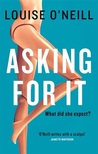 Asking For It by Louise O'Neill
Having read and enjoyed O'Neill's "Only Ever Yours" I was expecting a good read and I surely got one.
Emma O'Donovan is 18, beautiful and fearless. At least that's what it says on the blurb. Other adjectives to describe her would be shallow, cruel, envious, phony and a bitch. But do all those negatives equal her deserving to be gang raped? If she were a nicer girl who never made any mistakes would it alter your perceptions of what she did and didn't ask for? She was drunk, she was high, so doesn't she deserve what happened to her? The boys were just having fun after all.
The novel opens up a can of worms as its brings to light the treatment of rape victims by society. A woman has to prove that she is innocent, the young men get a 'get out of jail' card far too easily because they are 'nice boys' and she has a reputation anyway don't you know?
This is not for the faint of heart. There is a great deal of cussing in the story, buts its not because O'Neill is uncreative and didn't know what else to put into the mouth of her character. The swearing is not there merely for decoration; its a very real glimpse into the mindset of the victim. There is no gratuitous sex scenes, but everything done to Emma is revealed in detail in the description of photos that were posted on Facebook where Emma is confronted by what has been done to her.
We are privy to the gradual breakdown of Emma and all her relationships around her. Even within her own family there is little support of her trauma and there is a lingering sense of blame. Emotionally raw, the ending is brutally realistic. "They are all innocent until proven guilty. Not me, I am a liar until I am proven honest."
A great documentary to watch on the rape culture we are dealing with is "Audrie and Daisy" which is on release on Netflix. Go watch it and then go talk to others.