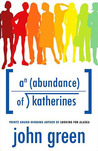 An Abundance of Katherines by John Green
My rating: 3 of 5 stars
This is a strange little book , full of mathematical explanations and odd little footnotes.
Colin was a fortuitous little boy who was a child prodigy who has become disappointed in himself for not turning into a genius. He has a thing about dating girls with the name Katherine – and he has done so with 19 of them. Hassan is his Muslim best and only friend who is brilliant and funny and lazy as all get out! They go on a road trip and end up in Gutshot Tennessee.
There are some great conversations between Colin and Hassan, and a nice little twist with the dead Austro-Hungarian archduke but in the end, this book was just so-so for me.
I didn't hate it, I didn't love it. I felt like I had seen the underbelly of what teenage boys in real life are like and it was a tad scary.